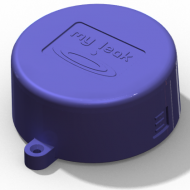 State-of-the-art WiFi enabled water leak detector that emails and/or texts up to 100 contacts with notifications. Events include fluid detected, low battery, and no WiFi. Easy installation.
FREE SHIPPING
Purchase has no monthly fees.
Choose the lease option for a free device with a low monthly fee.
Choose an option. Allow 2-3 weeks for delivery. Made and shipped in Dallas, TX.
Purchase:
Lease Monthly Rates Per Unit or Quantity:
Contact us for wholesale pricing and/or quantity discounts.